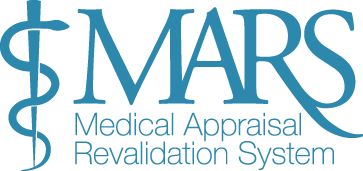 MARS is an all-Wales system provided by Health Education & Improvement Wales and funded by Welsh Government to facilitate the appraisal and revalidation of doctors. If you are new to MARS or new to Appraisal & Revalidation a resource has been created to assist you with the process - click here to view the document.
If you are a GP please use - MARS for GPs
We are in the process of enhancing MARS by providing an option to use the site in the medium of Welsh. If you have any queries in relation to this, please contact heiw.mars@wales.nhs.uk
Rydym yn y broses o wella MARS trwy ddarparu opsiwn i ddefnyddio'r wefan trwy gyfrwng y Gymraeg. Os oes gennych unrhyw ymholiadau mewn perthynas â hyn, cysylltwch â heiw.mars@wales.nhs.uk
Nodwch bydd y Ddesg Wasanaeth ar gau o 15:00 Dydd Llun 23 Rhagfyr ac yn ailagor 09:00 Dydd Iau 2 Ionawr. Bydd unrhyw negeseuon yn ystod y cyfnod hwn yn cael ein sylw ar ôl i ni ddychwelyd.
Mae'r RSU yn dymuno Nadolig llawen a blwyddyn newydd dda i chi.
Tîm yr RSU
Please note, our service desk will close at 15:00 on Monday 23rd of December and reopen at 09:00 on Thursday 2nd January. Any messages left during this period will be addressed upon our return.
The RSU wish you a very merry Christmas and a happy new year.
The RSU team