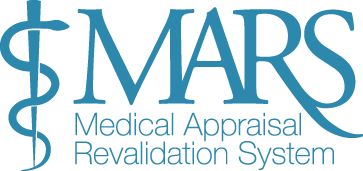 MARS is an all-Wales system provided by Health Education & Improvement Wales and funded by Welsh Government to facilitate the appraisal and revalidation of doctors. If you are new to MARS or new to Appraisal & Revalidation a resource has been created to assist you with the process - click here to view the document.
If you are a GP please use - MARS for GPs
We are in the process of reviewing MARS in order to comply with Welsh Language legislation ♦ Rydym yn adolygu MARS i gydymffurfio â ddeddfwriaeth yr Iaith Gymraeg
The MARS Service Desk will be closed from 1.45pm on Thursday 21st March 2019 and re-open at 9am on Friday 22nd March 2019. MARS will continue to be available throughout this period, the closure affects the technical Service Desk only.
If you have any queries or require further information you can contact us on heiw-mars@wales.nhs.uk or using the 'contact us' form via MARS.
Kind Regards
The Service Desk Team
Important – Please note that if you are inactive on MARS for a period of 3 hours, there is a timeout feature for security purposes. We recommend saving your work regularly to avoid any issues should you timeout. If you have any queries, please contact heiw-mars@wales.nhs.uk