MARS Medical Appraisal Revalidation System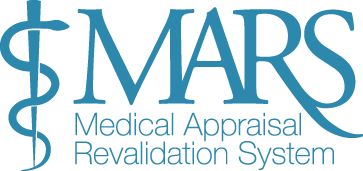 MARS is an all-Wales system provided by Health Education & Improvement Wales and funded by Welsh Government to facilitate the appraisal and revalidation of doctors. If you are new to MARS or new to Appraisal & Revalidation a resource has been created to assist you with the process.
If you are a GP please use - MARS for GPs
We are in the process of enhancing MARS by providing an option to use the site in the medium of Welsh. If you have any queries in relation to this, please contact heiw.mars@wales.nhs.uk
Rydym yn y broses o wella MARS trwy ddarparu opsiwn i ddefnyddio'r wefan trwy gyfrwng y Gymraeg. Os oes gennych unrhyw ymholiadau mewn perthynas â hyn, cysylltwch â heiw.mars@wales.nhs.uk
Following the latest advice from Public Health Wales and Welsh Government, HEIW staff are continuing to work from home. Therefore, the MARS Service Desk will be operating as an email-only service. It is available as per our normal business hours which are 09:00 – 15:00, Monday – Friday. Please contact us via heiw.mars@wales.nhs.uk or the 'Contact Us' buttons which are available throughout the MARS site. Medical appraisal in Wales will re-commence from 1st October with a focus on well-being and support. If you have any appraisal or revalidation queries, please contact your designated body Revalidation Team.
The Revalidation Support Unit has developed two new resources to provide guidance on how appraisal can be carried out considerately and effectively; Read our guidance on returning to appraisal and guidance on undertaking a virtual appraisal. The RSU team